[LDN] Moxa w/ Octave One, Severino, Rob Mello, Frivolous +++
2012-05-16, 13:06:03
tom corsica
Please Be Gentle
From:

Posts: 39
Joined: Aug 2010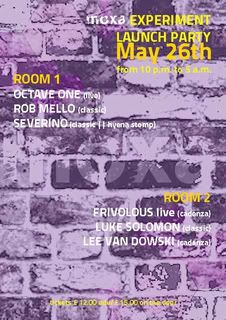 Tickets:
http://www.residentadvisor.net/event.aspx?366501
Octave One (Live)
Severino
Rob Mello
Frivolous (Live)
Luke Solomon
Lee Van Dowski
On May 26th Corsica Studios is proud to welcome Moxa, the legendary Italian house and techno club, for the launch party of an exclusive season of Summer "Moxa Experiments". On select weekends between May and September Moxa will be taking over Corsica for a series of fantastic parties bringing together the best of the underground deep house, techno and disco scenes. Each week Moxa welcomes many of the world's top international DJs to its home in Mantova - Moodyman, Osunlade, Larry Heard, Derrick Carter, Francois K are all regular guests, amongst numerous others - and many of its friends and beloved residents will be joining us at Corsica over the Summer months to bring you two rooms, six DJs and seven hours of the finest music we can find!
The first act features an eclectic and masterful line-up: Octave One, Luke Solomon, Frivolous!, Rob Mello, Severino and Lee Van Dowski and this will set the template for future nights - a combination of the best classic Detroit techno, Chicago house, NY disco and European electronica.
The second installment will be on June 9th.