Rework London @ Vision Video Bar- Dalston
2012-07-18, 13:33:05
acthook
Please Be Gentle
From:

Posts: 10
Joined: Apr 2012
Event Page
http://www.facebook.com/events/387569967964681/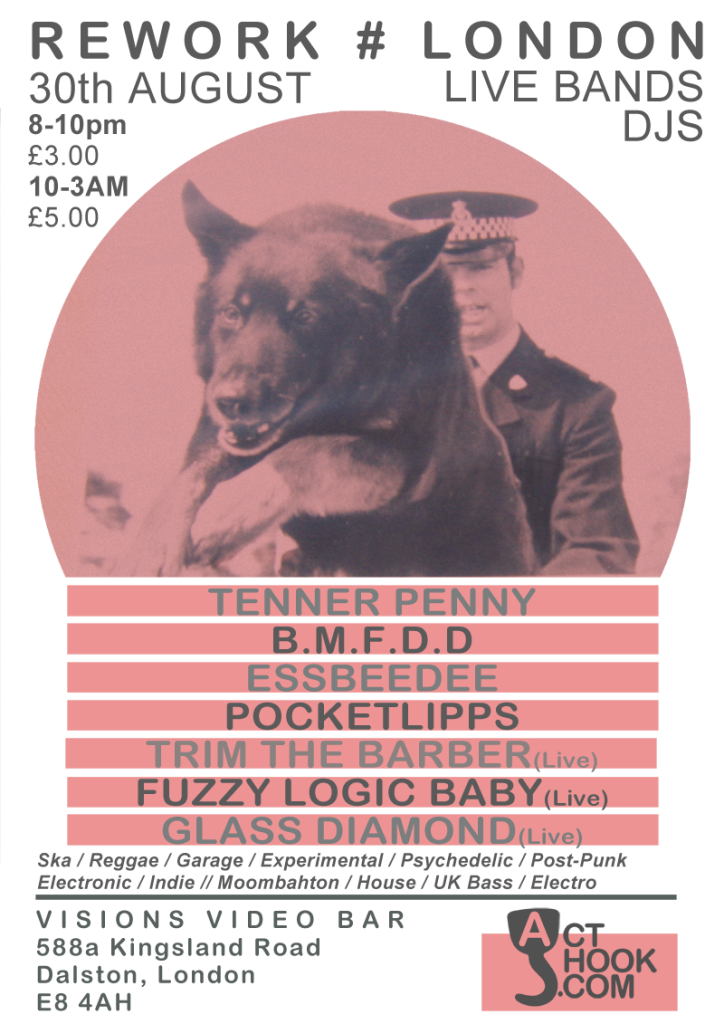 Rework London is a monthly event taking place at Visions Video Bar in Dalston. Rework is a showcase for Live Bands & DJs from across the United Kingdom. Expect all the best club jumping, hearts pumping DJ bangers to emerging Ska, Garage, Experimental, Psychedelic, Post-Punk, Electronic and Indie bands.
TWITTER:
https://twitter.com/ReworkLondon
FACEBOOK:
http://www.facebook.com/pages/Rework-Eve...1783611826
____________________________________________________________
Rework London @ Vision Video Bar- Dolston
8pm-3am
£3 before 10pm - £5 After
RSVP FOR GUESTLIST: reworkevents@gmail.com
____________________________________________________________
Live Bands
••••••••••••••••••••••••••••••••••••••••••••••••••••••
Ska / Reggae / Garage / Experimental / Psychedelic / Post-Punk
Electronic / Indie / Grunge
••••••••••••••••••••••••••••••••••••••••••••••••••••••
DJs
••••••••••••••••••••••••••••••••••••••••••••••••••••••
Bass Music / Moombahton / House / Electro / Techno / Disco
••••••••••••••••••••••••••••••••••••••••••••••••••••••
❖❖❖❖❖❖❖❖❖❖❖❖❖❖❖❖❖❖❖❖❖❖❖❖❖❖❖❖❖❖
LIVE BANDS
//☺Trim the Barber☺-
Psychedelic / Post-Punk / Shoegazers
http://soundcloud.com/trim-the-barber
4-piece Trim the Barber are psychedelic-post-punk-shoegazers from East London. A combination of the melancholic style of The Cure, the spiky snarl of Wire and the considered sonic attitude of A Place to Bury Strangers. The lush musical euphoria of shoegaze meets the cold atmosphere of minimalist post punk.
Formed from a sense of despair at the alienation and devolution of modern life, Trim the Barber's songs feature conscious lyrical themes of despondency and frustration with an existence in post-Millennial Britain.
Known for explosively loud audio-visual live performances, the group has played around the UK over the past year melting the faces of audience members with their brand of noisy yet strongly melodic compositions.
//☺Fuzzy Logic Baby☺ -
Ska / Reggae / Garage
http://soundcloud.com/fuzzylogicbaby
v=ZkG7JAel6Zk&list=UUauvIWkRD4S8SfLZ2CIPLjA&index=1&feature=plcp
Amongst fans, Fuzzy Logic Baby are the best kept secret in the music world today. Set against the wild and colourful backdrop of London town, the band splice together various influences of music to make up a distinct sound that captivates their audiences up and down the country.
Their live performances are something else, a boiling pot of frenetic, crowd engaging displays, garnering a dedicated following across the country. Shows in the past have included support slots alongside Professor Green, Tinie Tempah, Wretch 32 and Random Impulse.
//☺Glass Diamond☺-
Experimental / Electronica / Grunge
http://www.soundcloud.com/GlassDiamond
Glass Diamond unafraid to experiment with avant-garde oundscapes and are as happy throwing raw aggression against childlike melodies.
❖❖❖❖❖❖❖❖❖❖❖❖❖❖❖❖❖❖❖❖❖❖❖❖❖❖❖❖❖❖
DJS-
Tenner Penny
Whether it be a peak time set at 93 Feet East or a grimy after party in London's East End - Tenner Penny is fast gaining pace with his unique blend of House music and out and out atmosphere party tunes. Playing out solo and as one half of Alfred Anonymous, This DJ clearly has his finger on the pulse, also taking into account the crowd he is playing to - the time of night and the venue!!
B.M.F.D.D.
http://soundcloud.com/bmfdd
ESSBEEDEE
http://soundcloud.com/essbeedee
PocketLipps
http://soundcloud.com/pocketlipps
Pocket Lipps, aka Joe Garlick, has over 12 years experience playing clubs, festivals, radio and abandoned ships of war. He plays an eclectic mix of upfront selections from House, Bass Music, Garage, Deep House, Disco, Funk, UK Funky, Electro, Indie, Techno and Dubstep. For four years he held down a prime time radio show on on the largest alternative radio station in Wellington, NZ and played NZ's legendary dance festival The Gathering multiple times. Moving to Amsterdam he played with the Audio Culture and Boycott crews and supported internationals such as Deadboy, Homework and Girl Unit. A summer back in NZ over 2010-2011 saw him support the likes of Mosca and Roska